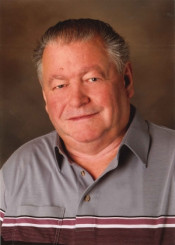 Sales Associate
715-542-3223
715-891-1697
715-479-5189
408 HIghway 70
St. Germain
,
WI
54558

Download vCard
Bernie Kazda Biography
A lifetime of living in the Northwoods, Bernie Kazda is the definition of the word experience. Bernie was born and raised in Sayner, Wis. Bernie and his wife, Janet, married 50 years ago and live in St. Germain. The couple has two grown children, Kris Kazda and Kelly Roach and two grandsons from each. Kelly also has a stepson and stepdaughter. True to any northwoodsman, Bernie spends his non-working time in the outdoors hunting, downhill skiing in Powderhorn and is a long-time snowmobiler.
Q. When did you get into real estate?
Bernie: "I've been in real estate sales for 34 years at the same desk."
Q. What did you do prior to getting into real estate?
Bernie: "We had different bars and supper clubs. Then I started in real estate in 1979. My brother-in-law was Don Eliason and I was good friends with Dick and Don. I talked about it for years and finally did it."
Q. What type of real estate do you specialize in?
Bernie: "Most of our sales are home properties and lakefront property is always good. The majority of our sales are second homes. Then that turns around and they buy something bigger and better and move up here."
Q. What do you enjoy most about selling real estate?
Bernie: "They are all fun when you get to the closing!"
Q. What awards have you received?
Bernie: "For years I was top producer. It's been fun. We had a lot of good years then a few bad ones where it was tough to make a living. It seems to be taking off again pretty good and I think we are going to get back in the swing this year.
Q. How much has St. Germain changed in the past 30 years?
Bernie: St. Germain has grown up quite a bit in the last 30 years. We have gained all these motels and lots of lodging.
For many years St Germain was just a post office and a grocery store. We have convenience stores and a new grocery store. It has definitely grown a lot.
We have definitely gained in year 'round residents, I think the grocery store proves that. Two banks and so on. We had a lot of snow this winter and had a good very good year all year.
Q. Anything else?
Bernie: "We are always looking for new business!"
If you are looking to purchase that perfect vacation home or join the St. Germain community, contact Bernie at any of the telephone numbers on the left side of this page or click on the email link.