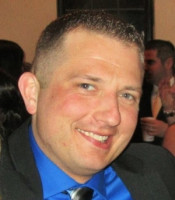 Sales Associate
715-479-4431
262-308-5009
715-479-3296
302 W Pine St
Eagle River
,
WI
54521

Download vCard
Jeremy Ryan Biography
They always say, "When one door closes, another door opens". It typically refers to a figure of speech but when buying or selling a home, it can be both figurative and literal! This sums up my beginning into the professional career of real estate. After proudly serving the Citizens of Kenosha, WI as a Firefighter/Paramedic for 13 years, I was forced to pursue a new path in life. In the fall of 2014, while working at the scene of an emergency, I suffered a career ending injury. Being a second-generation firefighter and having an unconditional love for the job, this was heartbreaking news. However, that unfortunate incident presented an opportunity for me to fulfill a life long dream of living in Eagle River, WI where my family and I have vacationed for the last 30 years.
The first third of my professional life was not only spent responding to emergencies, I also owned and operated my own business where we specialized in professional exterior remodeling and property management. Here I grew the company from a single part-time employee to nearly a dozen employees and over a million-dollar company. This underscores my drive, commitment and professionalism. It also adds value to your buying or selling experience by having someone like myself with significant knowledge in construction and what people look for in a home.
Consequently, my first couple of years have been extremely successful, earning the top sales producer award for my office two years in a row!! Hopefully, you will allow me the opportunity to work just as hard for you and your family as you embark on your Real Estate journey.
Outside of work I particularly enjoy spending time with my family. Golfing, boating, snowmobiling, hunting and fishing highlight our favorite activities. Oh, and did I mention, there is not a better place in the world than Eagle River, WI to do those!?!? After all, there is a reason they refer to this area as "God's Country".
Anyways, enough about me! Give me a call or send me an email, and let's get started on how we can team up together to make this a pleasant experience!
Respectfully,
Jeremy Ryan
262-308-5009