Posts In Tourism
As hard as it is to believe, this coming weekend is the Labor Day holiday. We have been blessed with very beautiful weather this summer, not too hot - not too cool. Thousands of visitors have come to the Northwoods to enjoy the perfect weather and the unlimited number of fun events and activities.
While making our plans to celebrate the weekend, let's take a moment to think - what actually is Labor Day and when did it start? According to the History Channel, Labor Day started during the time of the Industrial Revolution where workers were working 12 hours a day, seven days a week just to eek out a minimal livelihood.
According to the Department of Labor, the first Labor Day celebrations were enacted by individual municipalities. It wasn't until after 12 years of these celebrations that Congress stepped forward and passed a bill making the first Monday of September the official Labor Day. Also included in that bill were stipulations that parades would be held followed by gatherings of workers and their families.
What the Department of Labor did not include was information that the History Channel used to explain why the Labor Day celebrations came to be in the individual cities across the country.
Specifically, the first Labor Day celebration was in New York City on September 5, 1882. It was sponsored by the Central Labor Union. The union sponsored a march where workers took an unpaid day off to participate in the first Labor Day parade in US history.
Labor unions were organized in the late 19th century to fight the horrible working conditions, particularly in poor and immigrant workers sectors.
In some States, there were no age restrictions and children as young as five or six were forced to work, usually at wages much lower than those of the adults.
Admit it. We are spoiled up here. The towns do a fabulous job of creating big events throughout the summer. Guess what? We have an open weekend this weekend! There are lots of smaller events sprinkled throughout the area. So we used a few of these mixed with some great recreational resources to help you decide what you want to do with your free time this weekend!
We are so blessed to have hundreds of activities at our disposal. Now is the time to get out and discover why this is the greatest vacation area!
Color Dash – You have been hearing and reading about it – what is it? This is a 5 K fun run; meaning it is not timed. It is partnered with Big Brothers, Big Sisters of Northwestern Wisconsin – Northwoods branch. Packet pick up starts at Rhinelander High School Saturday, August 23 at 8 AM and the Dash starts at 10 AM. Throughout the race runners will be showered with a rainbow of colors making for some eye-popping ensembles at the end of the race. The registration fee is as follows: $40 Individual, $35 Team Member (min 4, max 16), and $85 Family* *For 3, $15 ea. additional (Up to 6). There are advance purchase prices. The Day of the event prices are $10 more. 5 & Under Are Free. Check out the Facebook site at
https://www.facebook.com/events/654217117957478/
. Kartway, Little Falls Miniature Golf and Rocking W Stables in Eagle River on Highway 45 N. There is something for every member of the family here! Go Karts, bumper boats, mini golf, horseback rides and even a thrilling ZIPLINE! This is a great place for parents and kids alike! Check it out at
http://www.northwoodsattractions.com/
. Deer, and donkeys and alpacas – OH MY! Take a trip up Highway 155 north of St.
There are a few people in life that are truly, remarkably memorable. In St. Germain, we are lucky to have several personalities at this level. One such individual passed away last year but he still has a very tangible presence.
This past August 3, 2014 would have been Steve Pulec's 58th birthday. Sadly, though he successfully won the battle against his lung cancer, the cancer in his brain claimed victory. November 4, 2013, he left this earth to begin his new life in the next dimension.
Steve was never one to shy away from making a new friend. His infectious smile was rarely absent and his raspy, Chicago South side drawl punctuated his many stories. His work life centered on serving the public. He began working as a youth for his father, Tony, and continued in the hospitality business in the St. Germain/Sayner area.
The New Twilight Bar and Grill is an extremely successful business venture he entered into with two Milwaukee friends, whom he eventually bought out. Through the many years in the bar business, he was able to combine both the local and tourist trade into a continually thriving and growing business concern.
A devoted father, Steve welcomed daughters, Tara and Kelly, who worked for him. But it was the new love of his life, Sheila Boland that was the crowning touch. He reveled in that he had it all – a great business, a wonderful family and a woman he adored. That was when he was told he had cancer and that the prognosis was not very good.
Steve and Sheila married on a snowy day in February, 2013, a true celebration of their love and dedication to each other. Sheila was a natural at helping Steve run the Twilight and today, she and Tara still manage the booming business.
Picture courtesy Jake Alward of Toboggan Hill onto Dollar Lake

This lake is as famous for a destination as the events that it hosts. Where was the first World Championship snowmobile races held? Want to play world class pond ice hockey, where do you head in February? Where is Chanticleer resort? There you go – Dollar Lake in Eagle River.
Dollar Lake is located between Dollar Lake Rd. and E. Dollar Lake Rd., just to the north of Highway 70, east of Highway 45 and just east the Eagle River Ice Arena. This 105 acre lake is a seepage lake and is 15 feet at its deepest point.
There is no public ramp on the lake; however, there is good fishing featuring Northern Pike, Largemouth Bass and Bluegills that inhabit the lake. According to the DNR, it is a moderately clear lake.
Without a doubt, the owners of the Chanticleer Inn, the Alwards, are responsible for creating the events that launched this lake into prominence. The first official World Championship Snowmobile Races were held in 1963/64 and current owner Jake Alward's parents, John and Betty, were responsible for organizing the races on Dollar Lake. In 1966, the races were moved to what is now the current Derby track.
This time it was Jake Alward who invited the US Adult Pond Hockey Championships to Dollar Lake in 2006. This coming February 6 through the 8, the 2015 10th Annual Labatt Blue USA Hockey Pond Hockey National Championships will be held again on Dollar Lake.
For a lake of rather diminutive size, Dollar Lake has spawned two events that rapidly gained national reputations. Since 1951 the Chanticleer Inn has been in the Alward clan. Jake and wife, Sue, purchased the resort from Jake's parents, John and Betty, in 1972. The luxurious resort features first rate accommodations and offers superb, award- winning dining along with generous Northwoods hospitality.
Phelps, WI - This Discover Wisconsin features the Northwoods community of Phelps. Beautiful lakes, lush forests including the Nicolet National Forest, hiking/biking/snowmobiling and cross-country skiiing trails are abundant in Phelps!
It's here! And it's wonderful! Independence Day weekend is the event highlight for the summer. Businesses and organizations will be sponsoring jam-packed agendas with tons of great things for young and old alike. Visitors and locals are treated to the best gol-darned, ole' fashioned partying to celebrate the US of A's birthday.
Cathy's Ice Cream and Candy Shoppe really knows how to start off the weekend by offering HALF-PRICED ice cream from 4:30PM to 6:30PM today, Friday, as Channel 12's meteorologist Melissa Constanzer broadcasts live from the shop.
Saturday, June 28, make sure to stop at Little Acorns Lodge Children's Development Center for their spectacular fundraiser/rummage sale. Local businesses have made gobs of generous donations to raise money for little Cameron Dahm who was diagnosed with Lymphoma in March of this year. Be sure to stop by between the hours of 9AM and 3PM and pick up a treasure or two while helping a family through a very difficult time. All sales proceeds will be donated to the Dahm family.
It's going to be a real lollapalooza all day Sunday starting with the 10th Annual Freedom 5K Fun Run. Registration begins at 7:30AM and then the race starts at 8:30AM leaving the St. Germain Community Center parking lot. Trophies are awarded to the top male and female finishers with medals going to the top three in each of the eight age categories.
But there is more! Wee ones from the ages of 2 – 12 also have their own competition in the 1K race. There are five age categories that are awarded prizes.
In the past 10 years almost $25,000 dollars has been raised for the Bike and Hike trail. For registration information visit the website at www.freedom.org for the form and more details.
Beginning at 10AM is the Big Brother Big Sister Craft show benefitting this excellent organization.
A beautiful spring day helped the folks at Northern Exchange greet their customers today at their Customer Appreciation Celebration. And what a celebration it is! Delicious food, horse and pony rides, face painting, a ride in their horse drawn wagon, little animals to delight everyone - mini baby pigs (way too cute!), guinea pigs, more baby pigs, ducklings, chicks of many varieties, and pups brought from the Vilas County Humane Society looking for new homes. And all of this fun is offered free of charge at Northern Exchange.
There were also specials on greenhouse items that overflowed onto the grounds. In the store, there were many great feed specials for your critters of choice.
The good news is if you didn't make it there today, you have a chance for tomorrow! They are open from 8:00 a.m. until 4:00 p.m. on Saturday, June 14. Meet your neighbors there for a wonderful way to enjoy a spectacular outdoors day!
Meet Shawn Feddema, the owner of what is undoubtedly the most colorful new business in downtown St. Germain. The Hammock Shop, located between DJ's North Woods Family Restaurant and Krist Oil, came to town three months ago bringing 10 years of experience from his previous location in Langlade, Wis.
It was there that Shawn began making hammocks for family and friends in his friend's basement. Eventually he and a partner opened his first location, complete with a beach front décor.
So why did he move his successful business? "I wanted to get into the woods and tap into the awesome energy it generated. I was looking for a longer selling season and a lifestyle change," Shawn grinned.
St. Germain was not his first up north choice. He selected a location on Minocqua's south side that unfortunately turned out to be a wrong choice. Perusing the Internet he came across the vacated storefront that today is home for Shawn and his business.
He linked up with Bernie Kazda and John Misina of Eliason Realty of the North, who helped him every step of the way to close the deal on his new business setting. Ideal it is. Shawn brought his beachfront décor to his new shop with the encouragement of several St. Germain businessmen.
The shop itself has a cozy hammock out front along, several hammocks on display, a work area and a welcoming fire pit where you might just find him grilling lunch. Inside there are three display rooms filled with hammocks in a huge array of lush materials.
Out back there is a finished trail and seating area that leads to trees hung with oh-so inviting hammocks begging for someone to give them a swing.
Shawn says there is only one style hammock but offers different sizes. "We only make one thing and we make it very well," said Shawn.
This may seem a bit unusual but, as the community lines are drawn, both Sayner and Star Lake comprise the Town of Plum Lake. Though neither community is incorporated as separate entities, each does have its own zip code helping to solidify each one's identity.
Turning the clock back, one of the most significant impacts in the historical development of the area was the arrival of the Milwaukee Road railroad. Like most towns in the Northwoods established in 1890s, the lumber industry was the lead industry.
Orrin Sayner established the Plum Lake House in 1892, where the post office occupied the kitchen. He envisioned the area becoming a premier recreational destination. True to his vision, families from Milwaukee, Chicago and St. Louis would travel by train to the area for the summer months, some arriving in their private railcars.
With the loss of the lumber industry after World War I, many residents became caretakers for the wealthy seasonal residents and developed businesses around the burgeoning tourism industry.
Sayner received its official nomenclature in 1934 when the post office moved from Plum Lake to town.
Star Lake came into existence in 1894 during the lumber days and then fell on its resources as a resort and support services community for campers, summer residents and the local residents after lumbering moved to the northwest.
According to Charles Forbes, in an article on www.starlake.org, a website that features information on Star Lake, there is no definitive answer how the community was named Star Lake. There are a few different versions of a story that says the area was named for a Harry Starr who was killed in a pile driver accident. However, Forbes said his research shows this was just a story.
Today the Town of Plum Lake is part of the Northland Pines School District.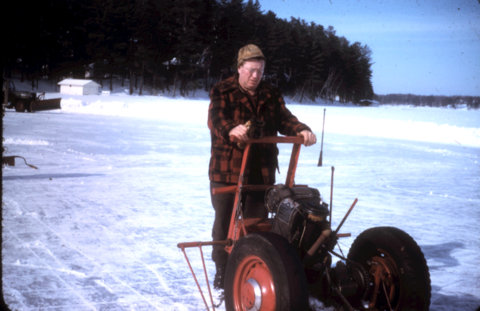 If the weather keeps up, we may need to resort to these icing methods to open up our lakes this season!
Grandpa, Oscar Eliason, owned and operated an icing business that cut ice from several area lakes and delivered to over 60 locations across the Northwoods! They would cut the ice in 16" cakes, store the ice blocks in sheds at various resorts and business locations in the area. Sawdust was used to cover the ice cakes as insulation to maintain the ice well into the summer season. #tbt
This #ThrowbackThursday tidbit brought to you by Eliason Realty, with offices in Eagle River and St Germain, WI. www.EliasonRealty.com
Whether you are full-blooded Irish by birth or just a wee bit of a kissin' cousin, this is the weekend for Guinness beer, corned beef and cabbage and the wearin' o' the green! We scouted out a few different area celebrations happening March 15 - 17. Have a blast and don't be kissin' no Blarney Stone!
From the Minocqua, Arbor Vitae and Woodruff Area Chamber of Commerce, here are a few Irish flavored events!
Full Set: A St. Patrick's Celebration
Campanile Center For The Arts, 141 Milwaukee Street, Minocqua
Sunday, March 16, 2014, 4:00 p.m.
Are you a fan of Celtic Music? It will almost be St. Patrick's Day and everyone will be Irish at Campanile on Sunday the 16th. Straight from Ireland, this band is one of the best Celtic bands I have seen in some time. I will be putting more information up soon put I'm giving everyone advance warning on where you need to be on this date. Perhaps Randy and Cindy will be enticed to serve up green beer for you out of the "Concessional" to add to the festivities. This one is going to be fun!
St. Patrick's Day:
T. Murtaugh's Pub & Eatery, Downtown Minocqua
Monday, March 17, 2014 10:00 a.m. - 9:00 p.m.
Irish beer, green beer, shot specials. Only serving the finest corned beef & cabbage dinner - $8.95. Takeout orders welcomed! Irish Music.
Celebrate St. Patty's Day:
Polecat & Lace, Downtown Minocqua
Monday, March 17, 2014 11:00 a.m.
Come enjoy our delicious Corned Beef & Cabbage!
St. Patrick's Day:
Slo's Pub, Big Arbor Vitae Lake
Monday, March 17, 2014 11:00 a.m.
Irish Stew all Day!
St. Patrick's Day Corn Beef & Cabbage Dinner
Holy Family Church, Cty Hwy J, Woodruff
Monday, March 17, 2014 5:00 p.m. - 7:00 p.m.
Sponsored by The Knights Of Columbus
Over in Eagle River there is a true to the core Irish Pub!
Older Posts