Posts in Marketing
It seems as if Mother Nature is apologizing for last year's weather for the fishing season opener by giving us a spectacular weekend this year. The ice-out is almost a distant memory as we are anticipating temperatures in the 70s this weekend. Perfect!
Also, welcome to the non-fishing new and returning visitors that use this weekend to ready their seasonal accommodations for the upcoming summer season. Take time out from your tasks and enjoy the fresh air and perhaps a barbecue or two!
Here are a few links to help you get ready for the opener as well as some places to visit for gear, guides and government outlets to get you on the water and fish on your line.
For locations on where to buy your fishing licenses or get your boat registered, here is the link that will take you to the Wisconsin DNR site with the right information:
http://dnr.wi.gov/Permits/CSRSP/LicenseAgents.aspx
With more than 2,000 lakes in the Vilas and Oneida counties area, the choices of where to fish can be overwhelming. What is a good lake for Walleye, Muskies, pan fish, etc? Click on this site to find a wealth of area maps that will help you decide on where to fish:
http://www.upnorthfishing.com/fishing-lake-maps-for-the-northwoods.htm
Perhaps its time to leave the hit or miss strategy behind and spend your time fishing and not searching for that hot spot. Ask your local neighbor — who may or may not be telling the truth - or opt to hire a local fishing guide and maximize your time on the water actually catching fish.
The following is a website chock full of information that will lead you to many local guides. It also has links to the chambers of commerce for both Oneida and Vilas counties:
http://www.northwoodswisconsin.com/fishing.htm
Okay, you have your license, the boat is registered, fishing plans are set; however, your gear is a mess.
With only a few chunks of snow around and some wonderful weather this week, spring has made a grand entrance. Most of the lakes are clear thanks to the temperatures, rain and some pretty brisk winds.
There is plenty of evidence the natives have responded to the change. If you are itching to hop on your bicycle, the fences are down on the bike trail. The weather is perfect for a nice long ride — well maybe not very long — but start to get those muscles back in shape!
Remember, the bike trail is also a hiking trail. It winds through beautiful scenery and chances are you will see a lot of the Northwoods splendid wildlife. Throw on a backpack and plan an early spring picnic. Those winter chills are really behind you!
The opening of fishing is in two weeks so it's a great time to go pick up your fishing license and take a good look at your fishing tackle. New fishing line? Pick us a few new lures or a spiffy new bait bucket and stringer for your bountiful catches.
Get the boat ready for the big day! Check spark plugs, add fresh gas and check your owner's manual for season start up advice.
This is also the perfect time to put the snowmobiles away for the season. Fog the engine and add Stabil to the gas tank. Put the sled up on a jack to get the weight off the track and give it a good wash before covering. Those with four-stoke motors will want to take their sleds to the dealer for an oil change.
Saturday, April 18, Lakeland Union High School will be hosting Minocqua's Home, Lifestyle and Recreation Show from 9 AM until 4 PM at this one-day event. There is a lineup of demonstrations, short seminars in addition to the dozens of vendors on hand with their products.
It's here! And it's wonderful! Independence Day weekend is the event highlight for the summer. Businesses and organizations will be sponsoring jam-packed agendas with tons of great things for young and old alike. Visitors and locals are treated to the best gol-darned, ole' fashioned partying to celebrate the US of A's birthday.
Cathy's Ice Cream and Candy Shoppe really knows how to start off the weekend by offering HALF-PRICED ice cream from 4:30PM to 6:30PM today, Friday, as Channel 12's meteorologist Melissa Constanzer broadcasts live from the shop.
Saturday, June 28, make sure to stop at Little Acorns Lodge Children's Development Center for their spectacular fundraiser/rummage sale. Local businesses have made gobs of generous donations to raise money for little Cameron Dahm who was diagnosed with Lymphoma in March of this year. Be sure to stop by between the hours of 9AM and 3PM and pick up a treasure or two while helping a family through a very difficult time. All sales proceeds will be donated to the Dahm family.
It's going to be a real lollapalooza all day Sunday starting with the 10th Annual Freedom 5K Fun Run. Registration begins at 7:30AM and then the race starts at 8:30AM leaving the St. Germain Community Center parking lot. Trophies are awarded to the top male and female finishers with medals going to the top three in each of the eight age categories.
But there is more! Wee ones from the ages of 2 – 12 also have their own competition in the 1K race. There are five age categories that are awarded prizes.
In the past 10 years almost $25,000 dollars has been raised for the Bike and Hike trail. For registration information visit the website at www.freedom.org for the form and more details.
Beginning at 10AM is the Big Brother Big Sister Craft show benefitting this excellent organization.
A beautiful spring day helped the folks at Northern Exchange greet their customers today at their Customer Appreciation Celebration. And what a celebration it is! Delicious food, horse and pony rides, face painting, a ride in their horse drawn wagon, little animals to delight everyone - mini baby pigs (way too cute!), guinea pigs, more baby pigs, ducklings, chicks of many varieties, and pups brought from the Vilas County Humane Society looking for new homes. And all of this fun is offered free of charge at Northern Exchange.
There were also specials on greenhouse items that overflowed onto the grounds. In the store, there were many great feed specials for your critters of choice.
The good news is if you didn't make it there today, you have a chance for tomorrow! They are open from 8:00 a.m. until 4:00 p.m. on Saturday, June 14. Meet your neighbors there for a wonderful way to enjoy a spectacular outdoors day!
Meet Shawn Feddema, the owner of what is undoubtedly the most colorful new business in downtown St. Germain. The Hammock Shop, located between DJ's North Woods Family Restaurant and Krist Oil, came to town three months ago bringing 10 years of experience from his previous location in Langlade, Wis.
It was there that Shawn began making hammocks for family and friends in his friend's basement. Eventually he and a partner opened his first location, complete with a beach front décor.
So why did he move his successful business? "I wanted to get into the woods and tap into the awesome energy it generated. I was looking for a longer selling season and a lifestyle change," Shawn grinned.
St. Germain was not his first up north choice. He selected a location on Minocqua's south side that unfortunately turned out to be a wrong choice. Perusing the Internet he came across the vacated storefront that today is home for Shawn and his business.
He linked up with Bernie Kazda and John Misina of Eliason Realty of the North, who helped him every step of the way to close the deal on his new business setting. Ideal it is. Shawn brought his beachfront décor to his new shop with the encouragement of several St. Germain businessmen.
The shop itself has a cozy hammock out front along, several hammocks on display, a work area and a welcoming fire pit where you might just find him grilling lunch. Inside there are three display rooms filled with hammocks in a huge array of lush materials.
Out back there is a finished trail and seating area that leads to trees hung with oh-so inviting hammocks begging for someone to give them a swing.
Shawn says there is only one style hammock but offers different sizes. "We only make one thing and we make it very well," said Shawn.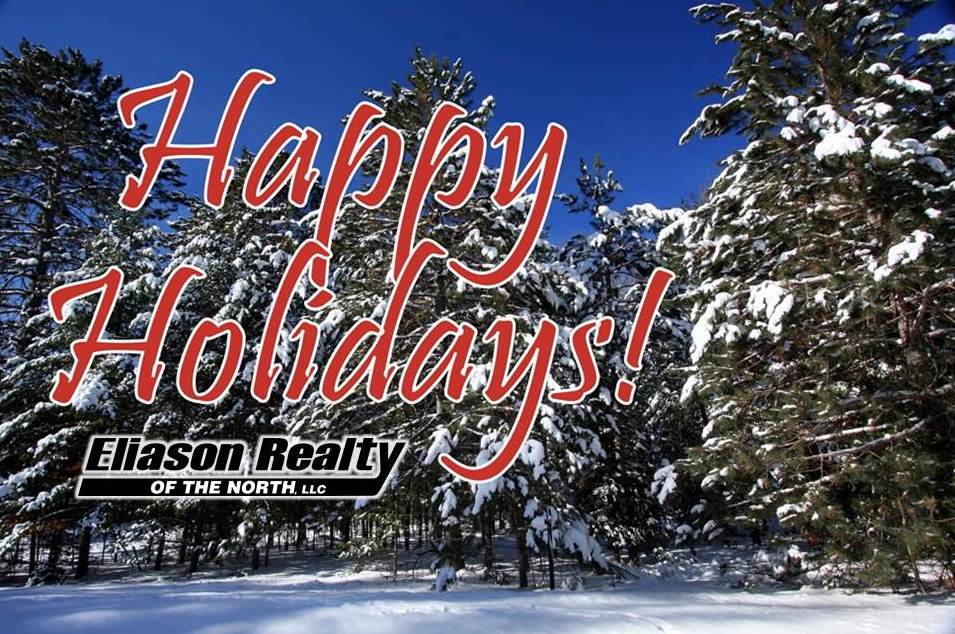 Dreams came true here with a healthy blanket
of snow that makes the Northwoods glisten!
We'd like to express our best wishes to you and
your family throughout this holiday season.
Merry Christmas and Happy New Year!
From all of us at Eliason Realty
Dick & Bonnie Eliason
Eagle River Team: Keith DeVos, Rachel Dreger, Katelyn Forsyth, Diane Misina, John Misina, Brenda Schmidt, Todd Staege, Mike Swisher
St. Germain Team: Ed Foxe, Marion Janssn, Bernie Kazda, Nancy Koerner, Tom Martens, Chris Nickolaou, Rick Lovdal, Tim Kruse, Richelle Kruse, and Ray Weber
Source: http://www.veteransunited.com/futurehomeowners/winter-home-purchase/

We agree with Veterans United that even in our snow-covered Northwoods, winter is a good time to buy real estate.
In addition to the reasons above, we also expect interest rates to rise over the next 12 months. Recently we have watched rates dip some after decisions to taper the QE were put off. When the easing begins to slow, we are going to see rates jump again and projections are calling for rates to be a full percent higher by this time next year. As the rates climb, it makes a huge impact on a buyer's cost.
Contact your Realtor at Eliason Realty soon to discuss your options, work on getting pre-approved with a local lender because now is the time to take action!
Eliason Realty of the North LLC
www.EliasonRealty.com
Check out our newest TV ads!
Eliason Realty of the North, LLC
Vilas County's Largest | EliasonRealty.com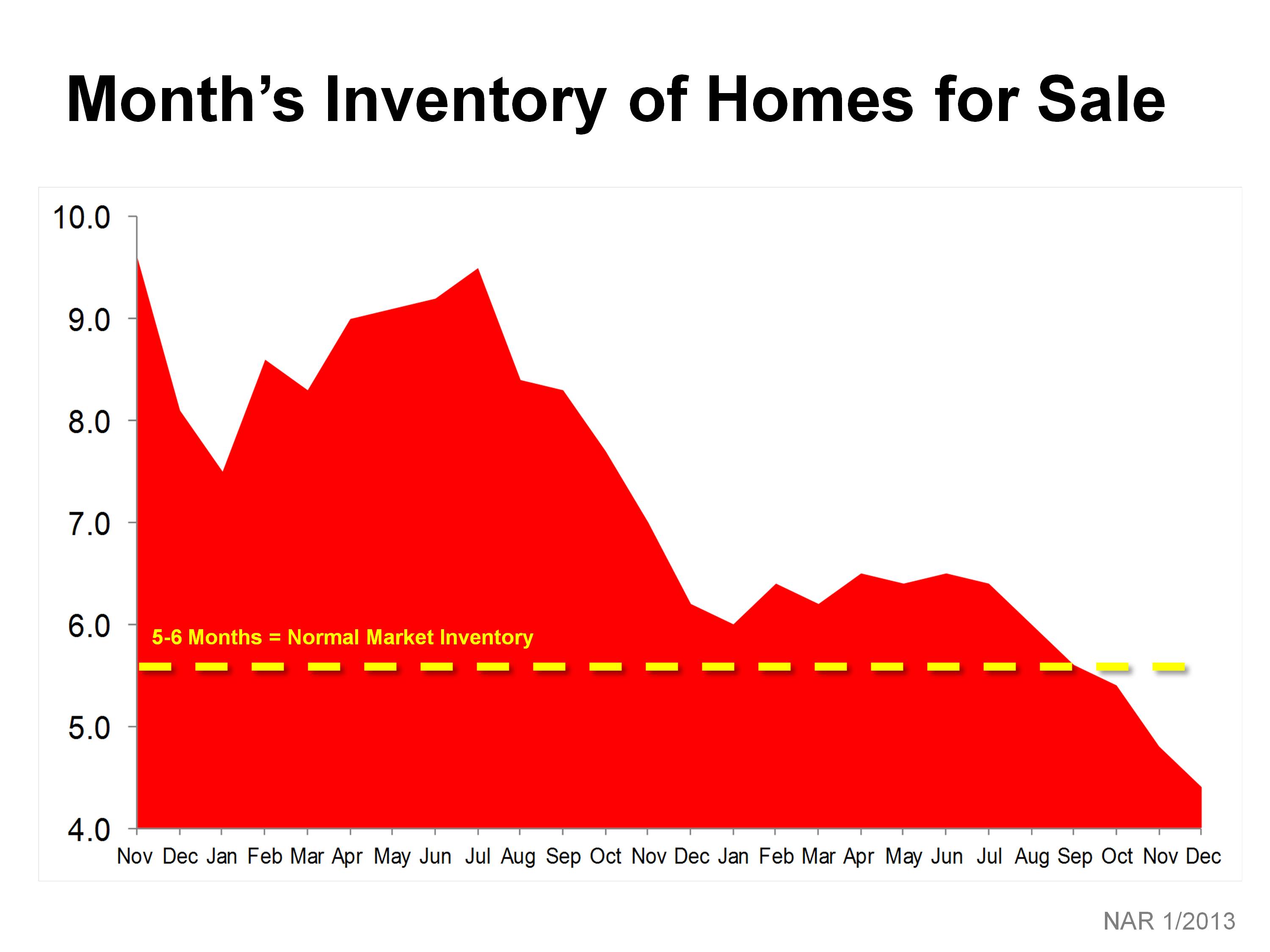 ... sings Bob Dylan and they certainly are in the real estate market. As early as 2010, we predicted that around the spring of 2012 we would be seeing a turn-around in the real estate market. Last Spring, in our newsletter, we noted that volume was starting to improve but prices were actually still going down. We also stated, "For the first time in 5 years, I am saying, we have hit the bottom and we are starting the recovery." As you can see from the national trends in the graphs below, the inventory of homes for sale has fallen significantly over the past two years. You can also see, nationally, the prices have finally started coming back. Monthly Inventory of Homes for Sale 10.0 9.0 8.0 7.0 6.0 5.0 4.0 NAt 17013 Eliason Realty has been seeing similar trends. Eliason Realty saw a 60% increase in sales volume in 2012 over 2011. That is compared with a 27% increase for the entire MLS. We have also seen a significant decrease in our volume of listings. In fact, based on the early 2013 indications, we are going to be short on the inventory needed to meet the demand that appears to be on the horizon for the rest of the year. With that in mind, the Northwoods could be entering the price recovery we have been waiting for. (You will see from the graphs on page 2 that although volume has begun to spike, prices simply level off.) We typically don't want to put too much weight on one month, but historically slow January was anything but. According to the \X/RA, sales in Wisconsin were up 18.3% over January 2012 and median home prices increased 3.4% over that same period. If you have been thinking of selling your property, but thought the market was not strong enough yet, you may very well want to consider taking advantage of the current trend.
iPad2 Promotion to Introduce New EliasonRealty.com Website

Becky Schmitz of Appleton, WI is the lucky winner of the July Eliason Realty drawing for an iPad 2. Becky is the third winner this summer for the Eliason Realty.com iPad 2 giveaways.
"When I received your call telling me that I was the winner of your monthly iPad," Becky stated, "I was pleasantly surprised. About one minute later, I found a request in my inbox from the Wish Upon a Hero Foundation, requesting an iPad for a 15 year old with autism. It seemed fortuitous that these two events came together, and I am thrilled that you agreed with us that we would donate the iPad to this cause, and we will add our programs designed for people with autism, to fulfill the wish for this young woman. It's great to partner with you in helping her to gain independence!"
Eliason Realty is doing a drawing for a new iPad 2 every month to celebrate the release of their new web site. To register for the drawing, you simply need to go to EliasonRealty.com and sign up. There is no cost or obligation, but you will automatically be registered for the site. In addition, you will have free access to all of the real estate search tools the site offers.
Becky wrote, "Your new website is a great use of technology, making it easy for us to keep an eye on what's available and properties that we might be interested in. We have appreciated the ability to have instant access to the information we need. We use technology in our company in a similar way in our business. We produce software to help individuals with communication challenges to lead independent lives." (the Conover Company)
Diane Misina says, "Feedback from our buyers and months of research led us to our new site creation that's a great tool for our buyers on the web, including premier mobile-friendly features.