Eliason Realty Updates
The highlight of the snowmobile season in St. Germain is fast approaching as the 2015 St. Germain Radar Run hits the starting lines beginning this Friday, Jan. 30 and Saturday, Jan. 31. This thrilling event is presented by Discover Wisconsin and the St. Germain Radar Racers, featuring Diva SnowGear, First Place Parts and Fly Racing. This is the 13th year for this charity fundraising event.
Held on West Bay of Little St. Germain Lake, this event has come a long way from the beginning when the races consisted of snowmobiles and a radar gun. Now this two-day event sports a seven-class line up beginning with stock sleds all the way up to the Super Mod class which is a specialty class allowing for unlimited cc's, full body, custom body and propelled by gas, nitro or turbo.
Friday afternoon, the Fly Racing Speed Runs will be held on the Thunderbird 1000' of shaved ice or on the Twilight 600' of groomed snow. Races start at 1:00 PM until 4:00 PM.
That evening, is Timber's Bar and Grill, "Friday Night Under the Lights". Weber's Wildlife Gas Pump will sponsor a Shoot Out snowmobile ride leaving at 3:00 PM. All snowmobilers are invited to take part in Weber's Wildlife Shoot Out drag races scheduled from 5:00-8:00 PM for $5 a run.
There will also be Radar Fun Runs open to the snowmobiling public at 5:00-8:00 PM sponsored by Straight Line Racing. A special feature at 6:00 PM will pit the 10 fastest snowmobiles in the Midwest against each other at the Snow Outlaw Drag Races.
Music will fill the air as snowmobilers shop the snowmobile vendors and warm themselves in the heated tent with food served by the Bo-Boen Snowmobile Club from 12:00 – 8:00 PM.
On Saturday, Straight Line Racing Trophy Runs will be held from 10:00 AM until 4:00 PM as well as Fun Runs. There will also be the 2015 Yamaha Demo Rides offered.
Picture from Eagle River World Championship Derby Facebook page

For 52 years Eagle River has lived up to its title as "Snowmobile Capital of the World™", when it launched the 2015 AMSOIL Eagle River World Championship Derby Races. This past weekend the snowmobiles that lit the racing fever were celebrated as the 2015 Woody's Traction Eagle River World Championship Derby Vintage Races were held Jan. 9-11. The winner of the 2015 World Vintage Champion is Matt Goede, from New Germany, Minn. racing on a Polaris Starfire.
Starting Thursday, Jan. 15, snocross and oval racing practice begins at 8:00 AM and racing begins at 2:00 PM with the first snocross and oval racing rounds at the Derby track.
An exciting Friday begins at 9:00 AM with round two of the races. Several of the classes will have finals later at Friday Night Thunder.
Saturday, the Snocross finals will be held and at 2 PM during the AMSOIL World Championship Top 10 qualifying race. After these races, the track will have a "knock down" in preparation for Sunday's oval finals and the Championship race that begins at 3:00 PM.
Of course, there is much more at the Derby track for spectators to enjoy. There is the fantastic indoor Derby Expo Hall where vendors show off the latest and greatest in snowmobiles, accessories and gear. It is also home to the newest addition to the Derby Expo Hall, the Derby Loft. This is an inside dining and drinking arena providing Derby attendees with a much needed accommodation that opened in time for the 50th Championship Derby.
There are also the very popular Hotseats that are enclosed, heated seating, elevated for a premier view of the racing action. They also feature in-box refreshments for the spectators.
If you are unable to attend in person, there is also a live feed of the races that is available online and presented by Woody's.
When it comes to winter, the word is "OUTDOORS"! January 3 was the epitome for the hardiness that exemplifies typical Northwoods residents and visitors. There were two charitable fundraising events that took on the battle against cancer head on.
A new charity was the beneficiary of the plunge at Fibbers Restaurant and Resort on St. Germain Lake. The first-ever, "Tundra Plunge", took place as 66 brave souls splashed into Big St. Germain Lake to raise money for the Vince Lombardi Cancer Foundation.
The Foundation has been raising money for research as well as providing care at the Vince Lombardi Cancer Clinics. Since its inception 45 years ago, $16 million dollars has been raised to fight this demon disease.
In true Fibbers fashion, Rob and Kay Manthei sponsored the event that was deemed at "huge success" by the Lombardi foundation.
That same day, Bonnie's Lakeside in Three Lakes, was the new location for the, "15th Annual Polar Plunge," that had a record breaking year. A stunning $50,500 in pledges was raised for the "Angel on My Shoulder" fund.
Angel on My Shoulder provides emotional and financial support locally for families affected by cancer. Each summer, children who have had to face the wreckage of cancer in their lives find support, understanding and fun with other children at camps held to help them deal with this disease.
Discover Wisconsin and Bonnie's Lakeside joined WRJO in sponsoring, promoting and participating in the event that has raised more than $383,000 in the past 15 years. This year 101 plungers braved temperatures in the 20s and took the icy leap into Spirit Lake in front of approximately 1,200 spectators.
What can top these icy winter events? How about the kickoff to the 52nd AMSOIL World Championship Snowmobile Derby week? Starting Jan.9 through Jan. 11 vintage snowmobile racing featuring classic sleds from the 60s and 70s will compete in the Vintage World Championship.
The snow has fallen and made the Northwoods white perfection. Christmas is at our doorstep and soon seasonal visitors will share the wonders of the Holidays up north. Whether curled up in front of a fire, gazing at Christmas tree lights, shushing on a groomed cross country ski trail or pausing on a snowmobile to let a deer cross, there are so many fabulous things to enjoy.
Many of the businesses will be closing early on Christmas Eve to enjoy the evening with family and friends. Churches throughout the area will hold Christmas services Wednesday evening and On Christmas day.
For a listing of worship services in the Minocqua, Woodruff, Arbor Vitae and Lake Tomahawk area, visit the Chamber site at: http://www.minocqua.org/minocqua-area-churches-and-worship.html.
For most of the churches in Vilas County, pick up the Wednesday issue of the Vilas County News Review. Online subscribers can visit their website at: www.vilascountynewsreview.com/lifestyle/churches-plan-holiday-services.
The Lakeland Times also has a comprehensive listing in the Dec. 23 on pages 6, 7 and 10. Details are available online for subscribers at: http://www.lakelandtimes.com/Search.asp?Keyword1=Christmas+church+services&btnsearch.x=50&btnsearch.y=13&SearchBox=1&SectionID=0&ReturnCount=20.
Shall we talk snowmobiling? You bet! Great news is that area trails are open and the recent snow has offset some of the meltdown experienced last week. However, caution is strongly urged, especially in swampy areas. Only cross the lakes where marked and stay within the markers – there needs to be a prolonged period of really cold weather to drive the ice in.
Make sure the snowmobiles are fully gassed if riding on Christmas day. Not all service stations will be open and not all have 24 hour self serve pumps. Most trails will be groomed for riding on Christmas day and it can be some of the best riding of the year!
Cross country skiers and snowshoe enthusiasts will want to prepare for heavy, wet snow conditions for this week.
Once again it looks like it's going to be a picture perfect white Christmas in the Northwoods. After a very scary meltdown, the plummeting temperatures turned the thermometer around and brought several inches of white beauty to the Northwoods. The forecast for the next 10 days looks like it will be even a whiter and a more glorious Christmas!
To add to the festivities, here are a few holiday events some of the communities are offering the public to make the season even merrier!
Eagle River: On Dec. 18, Thursday night from 5:00 - 7:00 PM, the Northwoods Chlidrens Museum invites children and their fathers to attend the free "Fun with Fathers" evening. There will be a dinner and planned activities so it is requested that reservations be made no later than the day before. Call 715-479-4623 or visit www.northwoodschildrensmuseum.com to make reservations.
Don't forget to take a break from shopping in downtown Eagle River and hop on a sleigh ride offered by the downtown businesses on Saturday, Dec. 20 from 11:00 AM - 3:00 PM.
The Sno-Eagles, weather permitting, will leave the Old Train Depot at 9:00 AM for a Christmas Eve ride. This is a superb time to snowmobile pristine trails at a very low traffic time.
Presque Isle: What child doesn't want to spend time with Santa Claus this time of year? A Children's Christmas with Santa begins with a sleigh ride at the intersection of County highways B and W at 6 PM. It's onto the Presque Isle Community Center where the Lions Club, Chamber of Commerce and Library host the children's party complete with caroling, an Advent walk and, of course, a visit by Santa! For more details call 715-686-2910 or 888-835-6508 or check out the website at: www.presqueisle.com.
Minocqua: For last minute shoppers, The Gaslight Square shops will be open until 7:00 PM on Friday, Dec.
The Christmas season is in high gear and, while the communities do a fabulous job with their special events, there are several activities that don't require a specific time and date.
Rocking W Stables and Sleigh Rides: What is more memorable than taking the family and friends on an authentic sleigh ride in the woods? Dean Nolan, and his staff of drivers, beautiful horses and cozy warming hut, deliver everything that is magical about a sleigh ride. The ride traverses 120 wooded acres populated by deer and other wildlife. Halfway through the hour-long ride, there is a stop at a toasty roaring bonfire complete with delicious hot cocoa or other steamy drinks.
Sleigh rides began on Dec. 12 and continue until Jan. 4. You can hop on a group sleigh or reserve a private one for your group's size. The price is $10 per person on the group sleigh ride and $100 for a private sleigh for up to 10 people. For more than 10 people, it is an additional $10 per person.
Call for reservations at 715-617-6779. Rocking W Stables is located behind Northland Pines Schools off Highway 45 north on Pleasure Island Road. You can also find them on Facebook at https://www.facebook.com/pages/Kartway-Rocking-W-Stables/165105380344576.
Minocqua:The Holiday Model Train Show is open Dec. 13, 20, 21, 22, 23, 24, 26, 27, 29, 30 2014, at the old train depot in Downtown Minocqua from 10:00 AM – 4:00 PM. The display features O gauge trains, a large scale that was popular before World War II. The display reflects old fashioned Christmases of a bygone era.
Before heading out, you might want to consider throwing your ice skates in the back seat and make a visit to the rink at Torpy Park in Minocqua. There are bathrooms, picnic tables and a warming house at the rink.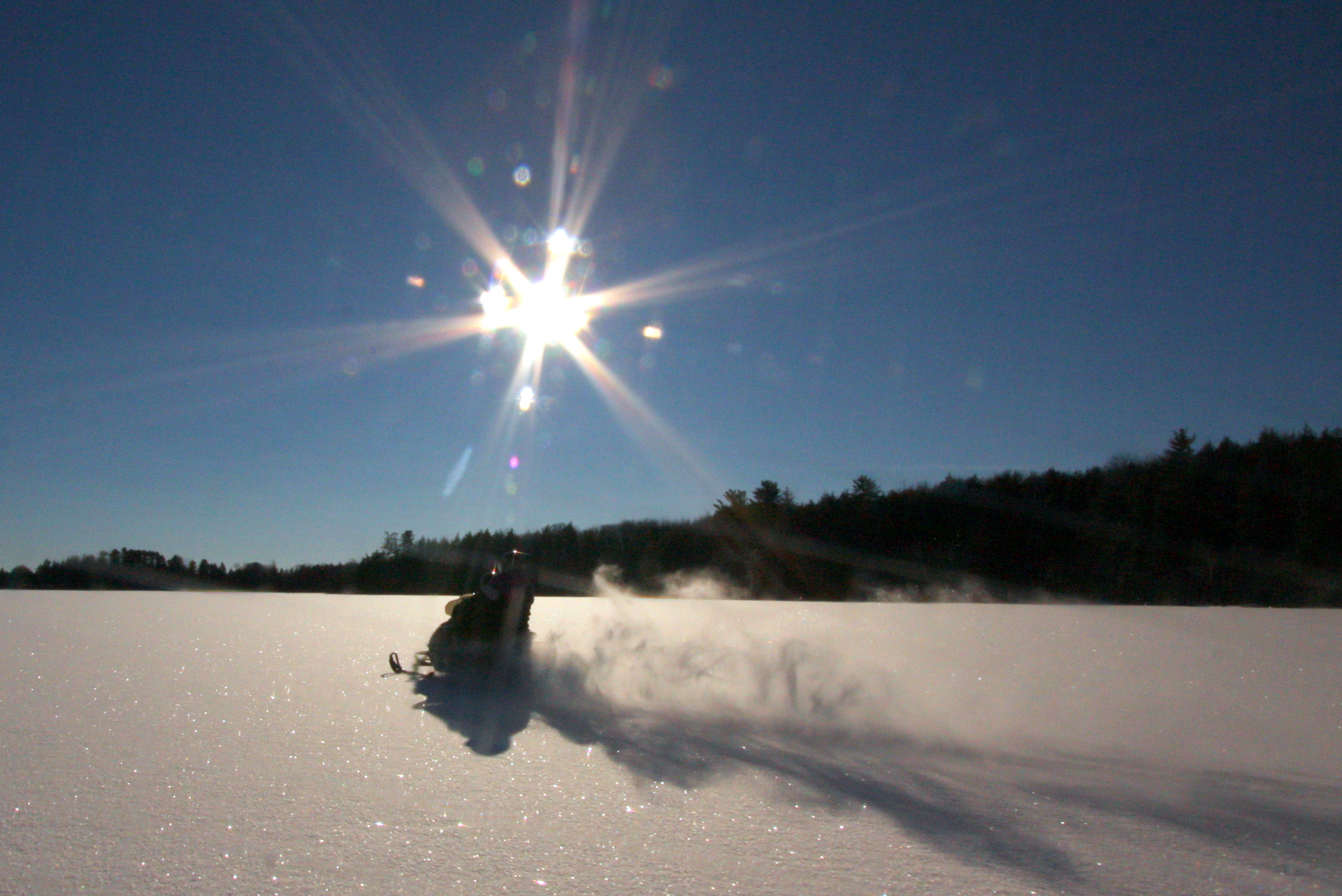 December 12, 2014 at 4pm, snowmobile trails officially open in Vilas County!
If you've ever considered buying a getaway property up north where you could keep your snowmobiles and ride from your door... here are some ideas for you!
The joy of Christmas is easily discovered through the eyes of a child. What better place to celebrate the Christmas season than at a children's program at one of the area's schools? Here are the schools and available information about upcoming programs and concerts. There are plenty of parents that would love to share their experience with a friend – just ask!
Arbor Vitae- Woodruff Elementary School: Grades 6-8 will have two Holiday Concerts on Tuesday, Dec. 16. The first is 1:00 – 2:30 PM and that evening from 6:30 – 8:00 PM. Grades K-5 will have theirs on Thursday, Dec. 18 also an afternoon Holiday Concert 1:00 – 2:30 PM and again that evening 6:30 – 8:00 PM.
Eagle River Elementary School: The Kindergarten Concert will be held Friday, Dec. 5 beginning at 2:30 PM at the Northern Pines High School Auditorium. Grades 2 and 4 will perform Friday, Dec. 12 at 2:30 PM at the Northern Pine High School Auditorium.
Lac du Flambeau Public School: Friday, Dec. 5 "Pow Wow" in the Big Gym 1:30 - 3:00 PM. Friday, Dec. 12, "Ugly or Favorite Christmas Sweater Day".
Lakeland Union High School: "Carols in the Commons" and "Seasons of Sound" featuring the LUHS Treble Choir, Concert Choir, Thunder and Lightening Choir and Culinary Arts. The event will be held in the LUHS Commons on Dec. 8 starting at 7:00 PM with music, food and plenty of Holiday cheer for all attending.
MHLT: The Holiday concert for grades 2-5 will be Tuesday, Dec. 16 at 6:30 PM. For grades K-2 the Holiday Concert will be Wednesday, Dec. 17 at 1:30 PM. For grades 6-8 the Holiday Concert will be Thursday, Dec. 18 at 6:30 PM.
North Lakeland Elementary School: The Winter Concert for grades K-4 will be held Tuesday, Dec.
Happy Thanksgiving to all and to all you hold dear! The weather certainly makes it feel like the Holiday Season and several area communities are making sure there are many "Christmas-y" things to do on this coming Friday and Saturday. So dig out your snuggly, warm festive finery and make some great memories in the Northwoods!
Boulder Junction: It's a busy weekend in Boulder Junction. Friday, November 28, starts off with the 21st Annual Craft Fair hosted by the Lioness Club from 9:00 AM until 3:00 PM. Crafters will be selling their handmade items and lunch will be served by the Lioness Club at the Community Center. A drawing will be held for the cash raffle as well.
Once again, the Library Cookie Walk will be held at the Acorn Lodge from 5:00 to 8:00 PM on the same day. The Friends of the Boulder Junction Library will be selling a huge selection of beautiful cookies and sumptuous candies until all the goodies are sold out.
Can it be 26 years already? You betcha! Also that day, the 26th Annual Christmas Walk will fill downtown Boulder Junction with happy shoppers along the luminary-lined walkways of the brightly lit stores and businesses from 5:00 PM until 8:00 PM. Stores will have treats for the shoppers who, later, can take an old fashioned sleigh ride. Carolers will fill the streets with Christmas music - all adding to the festivities. See the lighting of the town's Christmas tree where Mr. and Mrs. Santa Claus will stop in to delight young and old alike.
On Saturday, November 29, bring the children to the Community Center where they can have lunch with Mr. and Mrs. Claus after visiting the Christmas shopping house. There will also be activities – all this from 11:00 AM until 2:00 PM.
Only three more days remaining until the start of gun deer season. The DNR has made many changes to this season's regulations and hunters can site in only the bucks in the Northern Forest Region this year.
One question many hunters are keyed in on - what will the weather be this year? Hunters recall a pretty cold nine days last year. Looking at the records from last year for Eagle River from Weather Underground, on the whole, temperatures this year will be about 10-12 degrees warmer than last year. This is true for most of the period with the exception of the last weekend. AccuWeather is showing a 10 degree cool down for the last weekend. This year there are no below zero temperatures forecasted for the entire hunt.
Last year it snowed six of the first nine days with little or no accumulation. AccuWeather is forecasting snow for Saturday and Monday with snow and rain forecasted for Sunday. There is also snow forecasted for Thursday. No significant accumulations are being called for.
Prior to this season, the area has received in excess of 25 inches. Last year nearly three inches of snow fell on the Wednesday before hunting season opened but temperatures were in the mid-30s. Bottom line – there is definitely better tracking snow for this year.
With deer herds being down in the region, this is good news for the hunters. There are a couple cold days but the start of the season looks very tolerable. But still the same – keep those coffee and hot chocolate thermos close by!
Below are the daily highs and lows recorded in 2013 for Eagle River as reported by Weather Underground:
Nov. 23 12 / 5
Nov. 24 21 / -1
Nov. 25 32 /2
Nov. 26 28/ 7
Nov.
Older Posts